Thousands of hand knotted strips of fabric
Playing with material, height, direction, thickness
Conveying calm and elegance
At the very beginning I was using calligraphy paper, that I had brought back from China in my suitcases, as I left Shanghai after 23 years in Asia... I still use paper from time to time as it offers a lot of potential in creativity: I can draw, paint or stain on paper. It is soft enough to be manipulated and torn. But paper is very fragile and can break easily if I pull too hard as I make a knot.
I was showing my paper works to some of my friends, owners of a high end denim lab. They had rolls of unused fabric bias in stock, and offered a few of them to experiment with. The rolls were mostly white and of different width, thickness and texture. I got hooked immediately and started using them. First with small pieces and then I adventured to larger and larger pieces, until I used out all of the available stock! Now I am at the point where I need to order them or look for more unused rolls.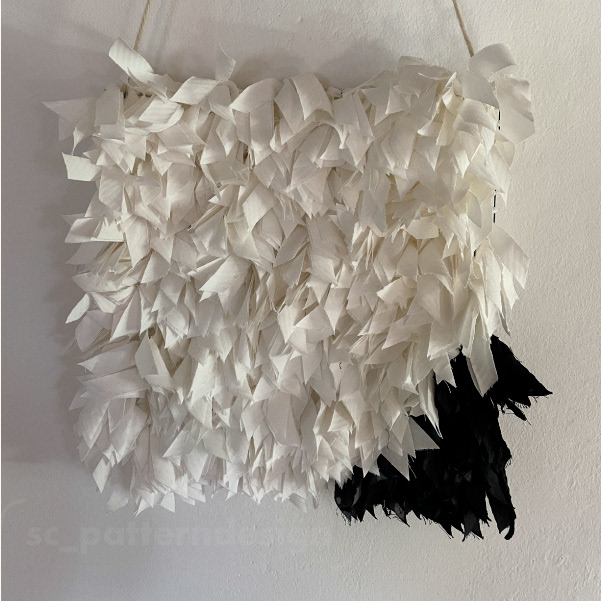 The textile pieces are made of strips of fabric bias. The bias come in rolls of various 
length, width and material
. I cut the strips according to the desired effect. Once cut, I fix them to a base structure with a very simple and basic knot making technique. Each work actually means a lot of strips being cut and requires before-hand thinking on the shape, the dimensional and directional effects I wish to give to the piece. I first sketch a draft on plain white paper, and then use millimetric paper to get a more detailed plan of my work to use as a guide. I often get new ideas as I am making them, thus allowing myself to change idea and to follow the new more suitable one. Sometimes I get stuck with the inherent limitations and have to rethink and find solutions! That's also the fun of it.
The rolls I was offered were white! But I do love the varying effects that stem from the different directions, and textures. I love how the knots meet and overlap or how they get away from one another. I feel they have a story to tell, and white on white also allows that. I wonder if I'll ever get tired of white, probably not!
The inherent sense of calm and purity of white makes it also very attractive to me, and what was a constrain originally is now something that I look for.
Despite the constraints, this type of work does offer endless possibilities. As mentioned before, size, shape, direction, dimension, thickness, texture are different parameters I can play with. Constraints never scare or discourage me, instead they challenge me and allow to be more creative, generating new outcomes.
I also very much enjoy the fact that I am using a material that would otherwise most probably be discarded. Having to deal with what I have is also a great creativity enhancer!
I also greatly enjoy the state of flow this hand work gets me into. My mind wanders, it is extremely meditative and soothing. 
Also, it is very tangible, real: as time goes by, it almost magically comes to life. And if it works, it shows quickly. If it doesn't too! If what I had in mind doesn't come through, I can just untangle the knots and start over!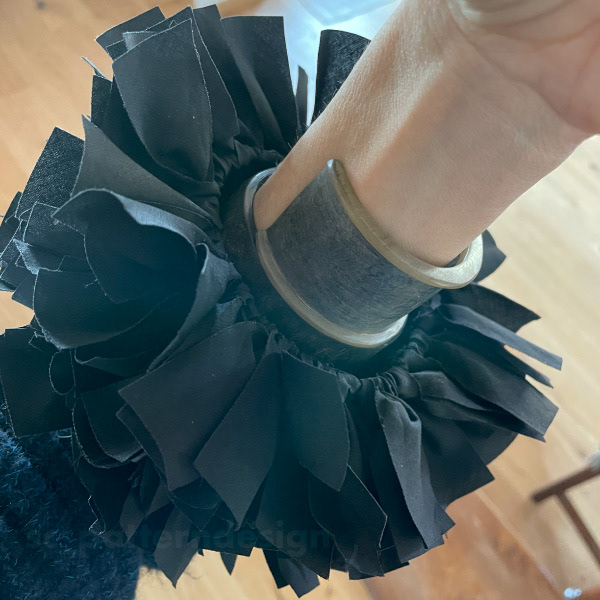 Beauty is an immense drive: where 
I
 live, where I go. 
I live in the countryside of the Marche region in central Italy, beauty is all around there, both natural and cultural. I also often travel to Paris, Lyon and Turin to visit family where I never miss a chance to visit exhibitions, new places, shops.
I hope my pieces give a sense of beauty, calm and purity to people's lives. 
I strive to attract one's attention and curiosity but in a subtle way. 
White on white creates a very elegant result, nothing obvious or ostentatious and I like that very much too. Being an introvert, this fits me very well!
Textile, creativity and geometry all in one, I have definitely found a piece of heaven!